Cathay Pacific Airlines offers a convenient online check-in facility that allows passengers to check in and select the preferred seats from the convenient of home before going to airport. With online off-airport check-in, passengers can eliminate the hassle to rush to airport and queue up on the check-in counter.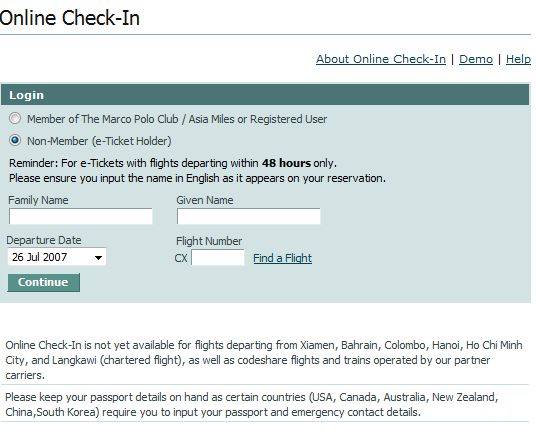 This is the first time I checked in online. Online check-in web page at Cathay Pacific Airways is located here. You can search for your flight by using your first and last name together with flight number. If you're member of The Marco Polo Clob or Asia Miles or registered users, you can simply login to your account to get your flight details. Note that only passengers been issued e-tickets or purchased tickets online can checkin online.
Once checked-in, passengers get to pick their own seats. You can choose whichever available seat that you prefer – front, end, near wing, exit row, near washroom and etc. But be warned that nice seats are hot in demand. It's grabbed and finished in seconds, or may be has been pre-booked by travel agents. You can also submit the Frequent Flyer Number online.
Cathay Pacific Airways allows early check-in up to 48 hours or until 90 minutes prior to flight departure time.