As we will have 5 days (actually only 3 full days, as flying to and fro will take one days each, almost) in Bangkok, the major question that popping around is whether to spend all 5 days in Bangkok, or have a detour to Pattaya, a famous beach tourist resort, or according to many people, more appropriately as sex tourist heaven.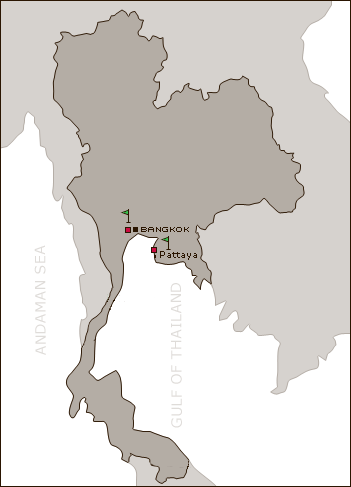 I have never been to Thailand before, although just staying about 100 km from the border of southern Thailand. So it's exciting to visit straight the capital of Thailand Bangkok, bypassing Hadyai, a popular destination in Thailand for those living in northern Malaysia.
Wikipedia describes Pattaya (Thai: พัทยา, RTGS: Phatthaya) as a city in Thailand, located on the east coast of the Gulf of Thailand, about 165 km southeast of Bangkok in the province of Chon Buri. It is one of the largest centers of tourism in Thailand, with some 5 million visitors arriving in 2004. Tourists visit Pattaya for many reasons including luxury hotels, beautiful beaches, friendly people, excellent shopping, reasonable prices and a wide variety of nearby tourist attractions. Others come for the world renowned nightlife.
I decided to visit Pattaya too, as it's close to Bangkok, and seems to be a pretty interesting place, especially for men. 🙂 Pattaya has no short of attractions too, the major draw is of course beach, namely Pattaya Beach and Jomtien Beach, although they're not top beaches. Other interesting places include Ko Lan (Coral Island), Sri Racha Tiger Zoo, Vimantaitalay tourist submarine, Nong Nooch Tropical Garden, The Million Years Stone Park and Pattaya Crocodile Farm, Elephant Village, Pattaya Park Beach Resort Water Park and Funny Land Amusement Park, Siriporn Orchid Farm, Underwater World Pattaya (world class aquarium), Alankarn cultural show, Sriracha Tiger Zoo, Bottle Art Museum, Mini Siam, Ripley's Believe It or Not Museum, Mini Siam, Sanctuary of Truth, and Walking Street. However, most is not even listed in guidebooks such as Lonely Planet and The Rough Guide. Guess they're just existed recently.
And we'll spend 2 nights in Pattaya, and will go Pattaya first on touch down of plane in Bangkok.